Training & Showing
JP specializes in the training of reining horses from start to finish. His training program is adapted to each horse and the focus is on giving the horse the opportunity to perform at its very best.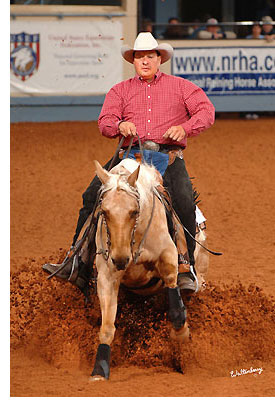 JP believes that for each horse to perform at his best, a training program needs to be simple and consistent. Emphasis is placed on developing roundness in the horse as well as complete body control. Through the use of responsive hands and effective seat and leg aids, a JP trained horse becomes a willing partner in a smooth performance.
JP Forget horses are confident and easily ridden by non pros, an indication of the effectiveness of the training approach. His horses as well as his non pros have gone on to win awards at many of the top fifteen reining horse shows in the world as well as countless national titles.
Some of the most recent are:
Top Ten, 2009 Ariat Tulsa Reining Classic
Co-Reserve Champion, Ltd Open Ancillary, NRHA Futurity & World Championship Show 2008, OKC.
Co-Reserve at the World, Senior Reining, ApHA World Championship Show.
Member of the Canadian National Reining Team 2004.
Reining Canada 2002 Open National Champion.
Top Ten NRHA Open World Standings for most of the 2002 season.
Whether you're looking for training, coaching or horse shopping help, we invite you to experience improved horsemanship and the accomplishment of your personal goals; contact us today.