About JP
JP Forget is not only an accomplished trainer and showman, he has proven his skills internationally and is an award winning professional instructor and coach.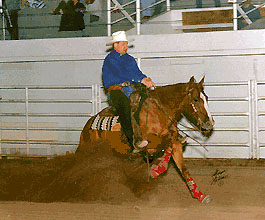 He is a Co-reserve Champion at the World Championship Show in Senior Reining, Co-Reserve Champion at the 2008 NRHA Futurity And World Championship Show in Ltd Open Ancillary and a Top Ten finisher at the prestigious Tulsa Ariat Classic 2009 Futurity.

JP was a member of the 2003 Canadian Equestrian Team Reining. He is a Past-President of Reining Canada and Past Vice-President of Reining Alberta. He served on the NRHA Board of Directors. He currently chairs the Reining Coaching Committee of Equine Canada.

JP is the Assistant Chef D'Equipe and Coach to the Canadian Reining Team at the 2010 Alltech FEI World Equestrian Games. He is an Equine Canada Certified High Performance I Reining Coach and an Equine Canada Approved Mentor of coaches.

He not only taught for 10 years in the Olds College Equine Science Program but was a leader in developing the College's leading Equine Science Program in North America. Riders travel from all over Canada and the U.S. to further develop their horsemanship/reining skills. His students have won titles at some of the biggest reining shows in the North West and Canada.
JP Forget is the only member of the Canadian Equestrian Team Reining to have coached a rider who also became a member of the National Team Reining.
In 1995 The University of Texas at Austin recognized JP's outstanding instructing, coaching performance, program design achievements, and granted him the NISOD Excellence Award for Instructional Achievement.
One of JP's most extraordinary skills is his ability to simplify the most complicated horsemanship and training maneuvers into small, easily understood segments that can be ridden by any rider. Another is his constant, specific, supportive feedback.
JP Forget is the author of four widely acclaimed books: The Complete Guide To Western Horsemanship and Starting The Western Horse, both published by Macmillan Publishing, as well as Western Riding: The Complete Guide and How to Start the Western Horse, both in Kindle format.